Mexico City, Mexico — Mexican President Andrés Manuel López Obrador awarded Cuban President Manuel Díaz-Canel with the 'Order of the Aztec Eagle,' the highest commendation a foreigner can receive. 
The ceremony took place on Saturday at the archaeological site of Edzná, in the southeastern Mexican state of Campeche, where Díaz-Canel was lauded for the Cuban government's support of Mexico during the Covid-19 pandemic when the Caribbean island sent doctors and nurses to strengthen the healthcare system.
During the ceremony, López Obrador again called for a united Latin America and recognized Cuba for its years of struggle against the United States.
"Since the Monroe Doctrine of 'America for the Americans,' there is only one special case, that of Cuba, the country that for more than six decades has asserted its independence politically by confronting the United States. Consequently, I believe that, for their struggle to defend their country's sovereignty, the people of Cuba, represented here by their president, deserve the award of dignity," said López Obrador.
In addition, López Obrador said he would launch an initiative to end the economic blockade imposed by the U.S. government since the early 1960s.
At a press conference on February 13, López Obrador called the economic blockade a 'flagrant violation of human rights' and said that the vast majority of countries are against the blockade of Cuba.
"We are going to seek, convince, persuade the U.S. government that there should be a change in this policy because it is fair," said López Obrador.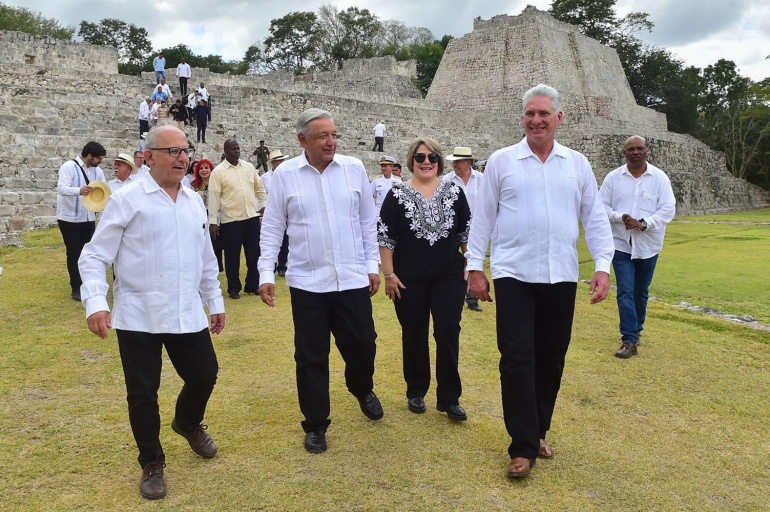 For his part, Díaz-Canel thanked the Mexican government for the recognition.
"And I receive it with humility and infinite gratitude because I am aware that the true deserving of such significant recognition is the noble and heroic people of Cuba, to whom we are grateful for the words of President López Obrador that he has dedicated to that people, to my beloved homeland," said Díaz-Canel.
However, the diplomatic celebration was met with controversy within some factions of the Mexican political realm, with the far-right National Action Party (PAN) denouncing Díaz Canel's recognition.
"In National Action, we repudiate the fact that the dictator Miguel Díaz-Canel will be awarded the Mexican Order of the Aztec Eagle, considered the highest distinction of our country to a foreigner, the act is deplorable and degrading for Mexicans and for Cuban citizens who live under a regime that keeps them in oppression."
The Mexican Order of the Aztec Eagle is the highest distinction awarded by the Government of Mexico to foreigners, a medal granted for "prominent services rendered to the Mexican Nation or humanity."
Among other recognized awardees are former Cuban leader Fidel Castro, Brazilian President Luiz Inácio Lula da Silva, and ex-President of Argentina Cristina Fernámdez de Kirchner, among other renowned world leaders.