Women's rights activists in Mexico acknowledge that the United States Supreme Court's decision to overturn Roe v. Wade could embolden conservatives in Mexico, but do not fear legal ramifications because the country's current laws protecting abortion rights are nearly impossible to overturn.
"Stigmatization is definitely advancing, and since we have always thought of the United States as an example, we may have even thought that what happened to them could happen to us," said Marcela Castro, a lawyer and activist for Marea Verde Chihuahua, referring to the U.S. court's decision to overturn Roe v. Wade.
"Fortunately for women, girls, and people in Mexico, it is very difficult for this to happen."
In September 2021, Mexico's Supreme Court of Justice unanimously ruled that the criminalization of abortion in the country was unconstitutional, protecting the right of pregnant women and those expecting a child to terminate their pregnancy.
According to lawyers consulted by Aztec Reports, overturning Supreme Court decisions in Mexico is extremely difficult, even if a political party loads the court with allies, any attempt to reverse such decisions would violate the guarantees and rights that the Mexican state and international treaties have granted.
"Here in Mexico, fortunately, the rulings are not retroactive in nature … the legislative processes take a long time and go through many revisions before any changes can be made," explained Ms. Castro.
Despite it not being criminialized federally, to date abortion is only legal in 10 of 32 Mexican states. And right-wing political groups continue to champion anti-abortion laws in states across the country.
States controlled by the PAN party, for example in Guanajuato and Queretaro, have laws on the books that still criminalize abortion. However, the measures are seen more as a deterrent rather than laws with any teeth as the Supreme Court ruling supersedes these laws.
"It is the PAN-led [state] governments, which are the equivalent of the republican party in the United States, that tried to reinforce these types of sentences in the same way that the republicans overturned Roe v. Wade," said Ms. Castro.
Mexican feminist collectives brace for more U.S. women seeking abortions south of the border
Since the announcement of the U.S. Supreme Court's overturning Roe v. Wade, it has been widely reported that American women could seek abortions south of the border via Mexican organizations that provide help for women in need.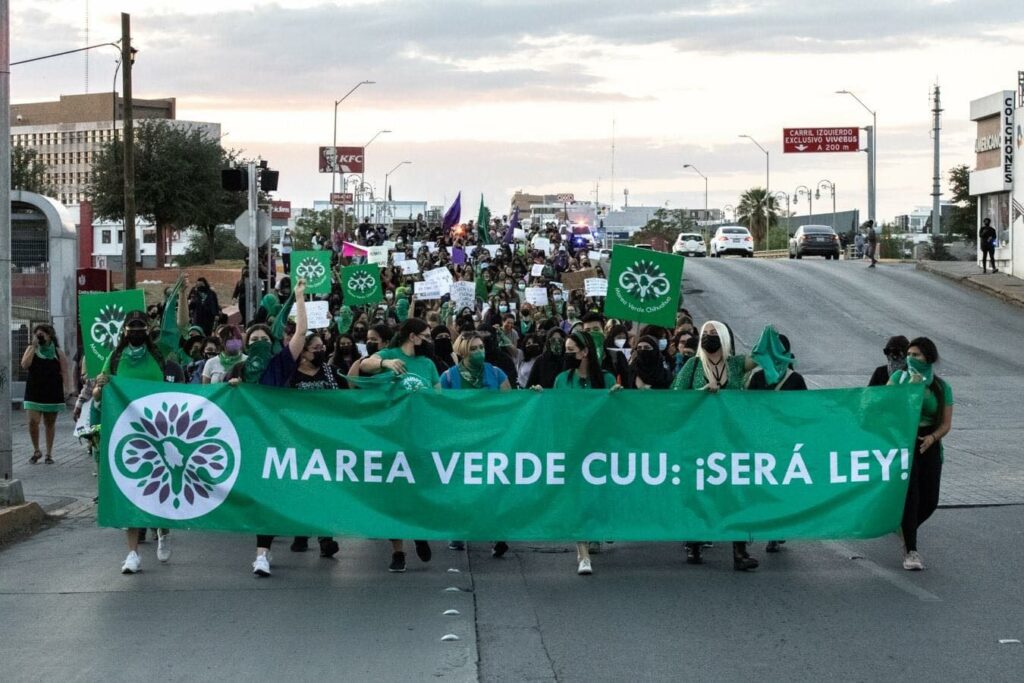 Based in the border state of Chihuahua, Ms. Castro's organization, Marea Verde Chihuahua, is part of a network of feminist organizations that provide medication and counseling to Mexican and American women in need of an abortion.
Through their Facebook page, women from states like New Mexico and Texas can reach out and get personalized guidance and request medication for abortions.
The feminist collective provides the medicines through a network of pharmaceutical banks and by smuggling the medication across the border, hidden in vitamin bottles or concealed in their clothes.
"We are filling a vacuum left by the State," said Ms. Castro.
"It is a lot of work for those who dedicate our lives to this, doing the work in the country is hard by itself, we are now tripling our efforts because of what happened in the United States."