Mexico's Attorney General's Office (FGR) issued three arrest warrants for the former head of Public Security in Mexico, Genaro García Luna, while he awaits trial in New York City for his alleged ties with Mexico's organized crime.  
As shared by the FGR through a press release, the former chief of security is wanted in Mexico for diverting public resources and laundering money through a scheme which involved pulling resources for eight prison facilities using shell companies.
The second warrant derives from his participation in Operation Fast and Furious, a joint operation with the U.S. Bureau of Alcohol, Tobacco, Firearms, and Explosives which involved smuggling over 2,000 firearms into Mexican territory in an alleged attempt to trace the smuggled weapons to members of organized crime.
Furthermore, the press release also noted illicit enrichment as another of the charges.
Mr. García Luna spent years working for Mexico's intelligence agencies before stepping up as Secretary of Public Security during the administration of former President Felipe Calderón (2006-2012). During his run in charge of the federal police force, Mr. García Luna would help execute Mr. Calderón's infamous "War on Drugs."
The escalation of military forces in direct combat with drug cartels fueled gun violence in the country, homicide rates, and disappearances. After six years of Mr. Calderón's war on drugs, the security strategy culminated in a rough estimate of 70,000 murders and the rise of different criminal gangs.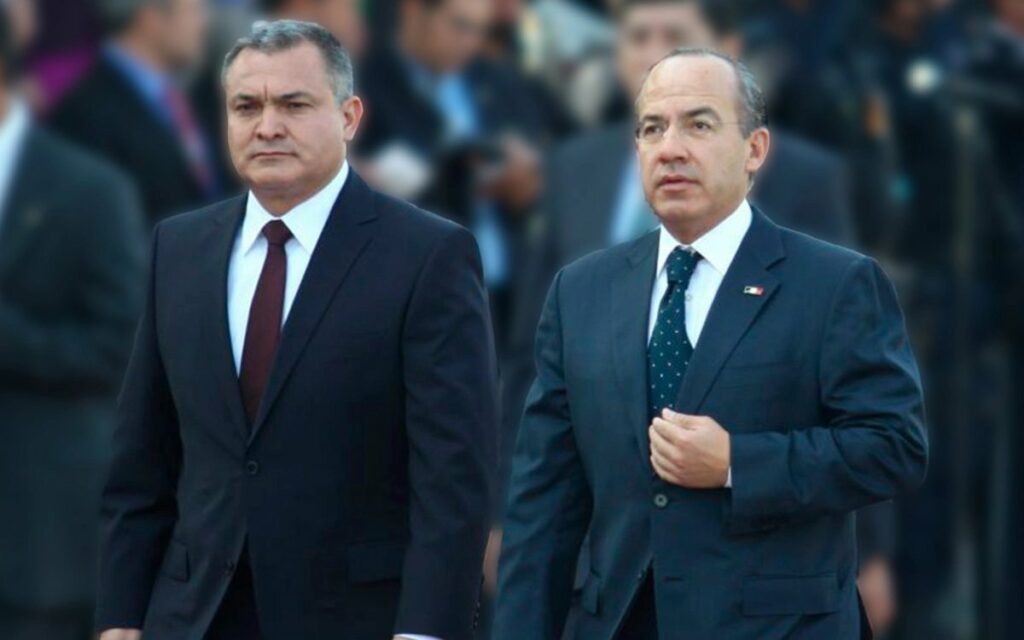 After Mr. Calderón's presidency ended in December 2012, the architect of the war on drugs, Mr. García Luna, retired as a public official and moved to Miami, Florida in 2013 where he lived a lavish lifestyle along with his wife.
Both Mr. Calderón and Mr. García Luna would uphold the war on drugs as a necessary effort to battle drug cartels in Mexico. However, a U.S. criminal investigation would point at Mr. García Luna for taking bribes from one of Mexico's largest criminal organizations, The Sinaloa Cartel, during his time as security chief and intelligence officer.
"As alleged, for nearly two decades, García Luna betrayed those he was sworn to protect by accepting bribes from members of the Sinaloa Cartel to facilitate their crimes and empower their criminal enterprise," stated U.S. Attorney for the Eastern District of New York, Seth D. DuCharme.
According to the U.S. judiciary, since 2001, Mr. García Luna had accepted millions in bribes for providing safe passage for Sinaloa Cartel drug shipments, offering protection, and providing sensitive information on rival cartels.
Mr. DuCharme, stated that Mr. García Luna and his co-conspirators would be indicted for their alleged involvement in importing and distributing "massive quantities" of narcotics into U.S. territory.
The investigation, led by the New York Strike Force, alleges that between 2002 and 2007, Mr. García Luna aided in at least six cocaine shipments amounting to a total of 50,000 kilograms of the narcotic.
In December 2019, U.S. authorities arrested Mr. García Luna in Dallas, Texas, for his ties with the Sinaloa Cartel and drug trafficking. If convicted, the ex-chief of security could face a minimum of 10 years and a maximum of life in prison.
In October 2021, the U.S. prosecution pushed Mr. García Luna's trial to October 2022.
In June 2022, the New York prosecution shared that Mr. García Luna had used his power to bribe journalists and silence witnesses. The allegations stem from recordings of Mr. García Luna allegedly explicitly talking about silencing opposers.
During his daily press conference on Thursday, Mexican President Andrés Manuel López Obrador dwelled on the impact Mr. García Luna had on Mexico.
"I think that, although he (García Luna) was an important figure in the government, very important, the responsibility lies at the top, in the wrong decision to face the problem of crime with coercive measures, declaring war, I think that was the main mistake," said the current president.