An official from Querétaro, a small state in north-central Mexico that was the scene of a major brawl during a professional soccer match between Querétaro and Atlas F.C. on Saturday, said that reports on social media of deaths occurring during the mayhem are unsubstantiated.
"At this moment, there are no deaths. We don't have any complaints of missing persons," Lupita Murguía, Secretary of Government of the State of Querétaro told Imagen Radio on Monday. She added that there were 26 people total admitted to local hospitals, and that five patients were in critical condition.
Distressing videos and images from Saturday's match of people laying prone, bloodied, and stripped nude have led some on social media to suggest that the local government's claim that there were no deaths is a lie. Extraoficial reports from journalists put the death toll as high as 17, and an Atlas fan interviewed after the match said that her friend, Arturo Buenrostro, was confirmed dead. (Editor's note: The journalist who originally reported a death toll of 17 rescinded his comments on Tuesday)
Secretary Murguía responded to these claims during the radio interview Monday:
"There's a person that they say has been killed, however, it is a young man that's currently in a critical state in the General Hospital. Another name of a supposed dead man, Mr. Arturo Buenrostro, we think that it's an assumed name. We've searched and tried to identify him in communication with the government of Jalisco [the state where Atlas F.C. is from]. It's not his real name. So there has been a lot of disinformation," the secretary said.
The Liga MX match was suspended in the 63rd minute after fighting between hometown Querétaro fans and visiting Atlas fans spilled over the seats and onto the field. Barras bravas or "hooligans" from opposing sides were captured on video beating each other with fists, chairs and other objects, with the outnumbered Atlas fans taking the brunt of the thrashing.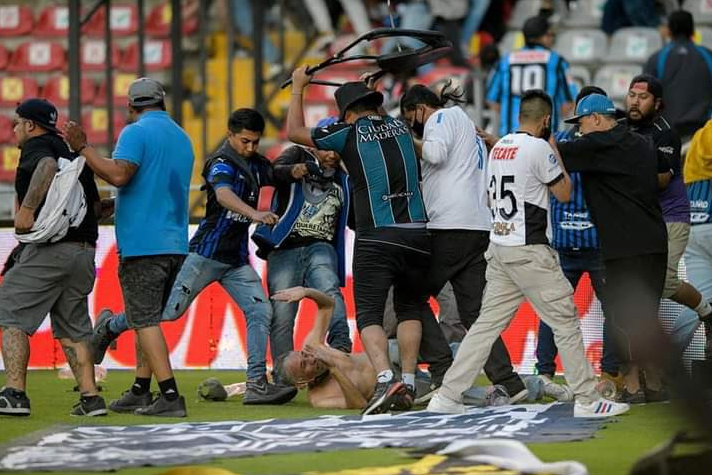 In the aftermath, five Mexican officials have been suspended and the Liga MX postponed all games on Sunday. Among the suspended officials are Leonardo Flores, operational coordinator for the state police in Querétaro; Isaac Pérez, an official from the Corregidora stadium in Querétaro; Agustín Martínez, a police officer; and Carlos Mendoza, the event coordinator and commissioner for Saturday's match.
Some Mexicans are asking for harsher penalties, even calling on soccer's international governing body, FIFA, to reconsider Mexico as a co-host for the 2026 World Cup, which it is set to host along with Canada and the United States.
The prosecutor general's office in Querétaro has opened a criminal investigation into the brawl and said that it has identified 26 suspects that authorities are searching for in and around Querétaro. The investigation also includes a look at whether there was any criminal negligence from officials in charge of keeping fans safe at the match. The local human rights ombudsman Querétaro has also filed an official complaint.
On Monday night, a mass was held in front of Atlas F.C.'s home field, Jalisco Stadium, in support of the injured fans. It was attended by fans of multiple soccer clubs.
"Officially there are no deaths and we hope that this is the truth for the benefit of everyone," said Monsignor Gonzalez, the priest presiding over the mass according to Informador.mx. "We pray for all those who are injured, for whom their lives are in danger. Only God knows the truth. But we also pray for the aggressors, so that they change their hearts and leave everything bad aside."