Mexican President Andrés Manuel López Obrador on Sunday handily won a recall referendum to decide whether he should continue governing the country. Low voter turnout, however, meant that the decision fell far short of the 40% of the electorate's participation needed to make the referendum legally binding.
Mr. López Obrador overwhelmingly won the recall referendum with 91% of voters who participated deciding he should continue his administration, while just 6% of voters called for his ouster. Just 16 million of 92 million eligible voters participated in the referendum, about 17% of the total electorate.
The president praised his success and said that the historic referendum was a testament to democracy.
"A new stage, not only of representative democracy but also of participative democracy. This is applied in the most advanced countries in the world, citizens are always consulted, there are countries that have consultations every 15 days. So it is a special day, a historic day, yesterday, Sunday," Mr. López Obrador said on Monday during a press conference.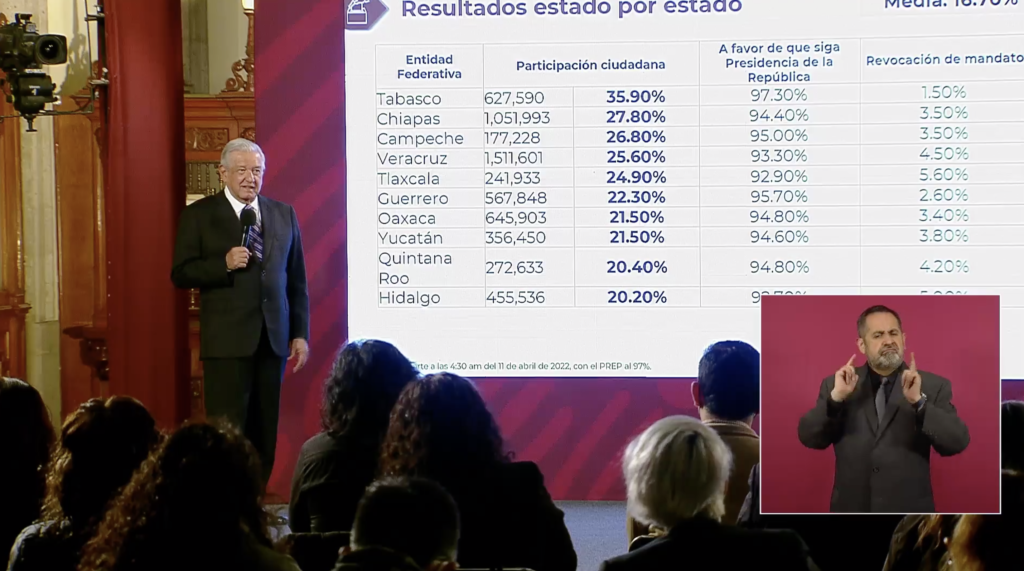 AMLO's critics, however, argued that the whole referendum was a political ploy to shore up support, and that there was no real risk that he'd lose his ability to govern.
"This fraud (the referendum) is a very old trick. It is one of the favorite traps of the authoritarians in which the current administration is inspired, the same theater of a recall mandate they did in Venezuela and Bolivia. Same trap, same words," said political adversary and former presidential candidate Ricardo Anaya.
Controversy between AMLO and Mexico's National Elections Institute
Ahead of the referendum, AMLO faced pressure from Mexico's National Elections Institute (INE), accusing the President's ruling party in Congress of cutting the budget for the institute ahead of the referendum, and inhibiting the body's ability to carry out the recall vote.
On Monday, Mr. López Obrador fired back at the elections body saying, "The attitude of the INE is very unfortunate. They should be celebrating if they had not put obstacles. But, unfortunately, they couldn't even though they disagreed with the revocation of the mandate."
The president also accused INE of intentionally sabotaging Sunday's recall vote by not installing enough voting booths. He attributed low voter turnouts to the lack of facilities for voters.
For his part, INE's director, Lorenzo Córdova, said that allegations of sabotage are "unfair and false" saying that if there is any sabotage "it is from those who did not give the money to install polling places".
While political experts and critics denounce AMLO's recall referendum as a measure to shore up political power, some who took part in the vote on Sunday feel that the recall is a step in the right direction for democracy in Mexico.
"It has a very important meaning in our country," said Victor López, a medical student from Mexico City who voted on Sunday. "Mexico has a long tradition of a very weak democracy. [The recall] comes at an important moment. It is a way to revive democracy; [to ensure] that the rulers get used to doing their job well, [and that] the people are the ones who are in charge."