Construction of one of Mexico City's largest mixed use complexes, Torre Mitikah, in the central Xoco neighborhood, has local residents out on the streets protesting. Xoco's indegenous community laments the noise, traffic and dust associated with job sites, but also the predatory real estate practices, prices that are increasingly too high for locals to afford, and even cases of physical violence they say are related to the construction project.
Colonia Xoco, a pre-colonial enclave in the central Benito Juarez neighborhood of Mexico City, can trace its roots back to before the Spanish conquest, to the civilization of Teotihuacan.
Recent archeological excavations have uncovered artifacts from over 1,700 years ago, and current community members can trace their ancestry back to the original indigenous population that inhabited the area. Over the centuries, urbanization encroached on the small town. 
By the mid-1980s, Xoco's surroundings started to follow Mexico City's urban development. With corporate buildings and luxury apartments closing in, the town was soon to be swallowed up by the capital's massive urban sprawl.
"Twenty-eight years ago, when I arrived in the town of Xoco, it was a wonderful town with beautiful traditions, there were dancers, there was enough water, little traffic, it was a very peaceful place. Unfortunately, since the arrival of the construction, everything has deteriorated, a lot of noise, a lot of dust, the main roads have been cut off, and it has become full of crime," Elizabeth Alvarez Resendiz, a local resident, told Aztec Reports.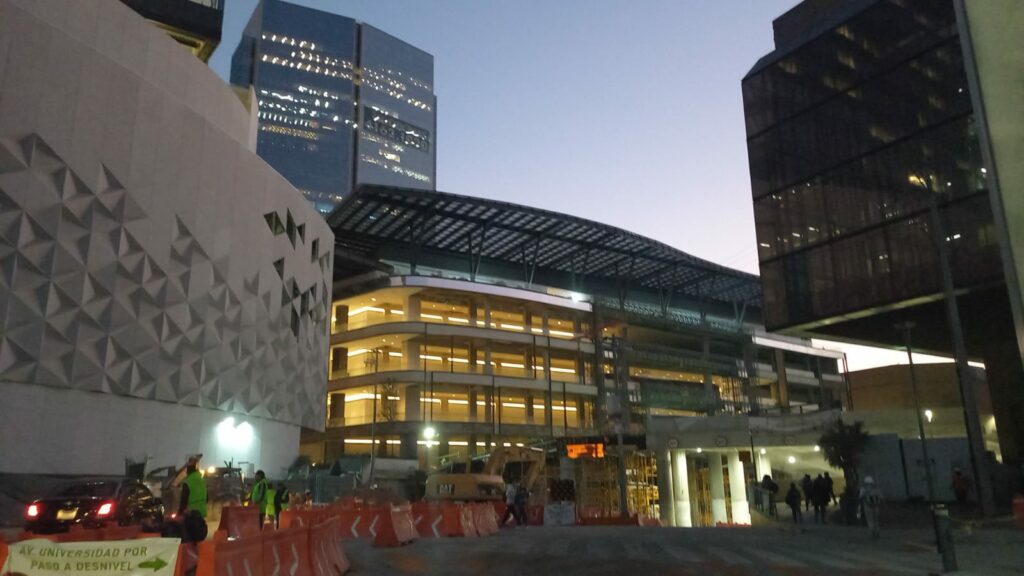 Although the colonial infrastructure had been giving way to modern architecture for the past 30 years, with houses and small apartments starting to rise inside the neighborhood, the people of Xoco say their way of life really began to feel threatened with the arrival of an ambitious real-estate project in 2012.
After lawsuits and delays, Torre Mitikah officially broke ground in 2015, a USD $1 billion investment. The project incorporates office space, luxury residences and a shopping mall, promising investors and interested buyers "elegance" and "sophistication" while also setting the record for the tallest skyscraper in Mexico City.
According to the latest report from Torre Mitikah's developer, FIBRA 1, the whole project adds up to 1,926,738.1 square feet, with 93% of its initial phase of construction completed.
The Xoco community can't help but feel they're living in the shadow of a giant.
"The town of Xoco is about to disappear because the authorities want it that way," Alvaro Rosales Gaddar, leader of the Xoco Assembly, a local community group, told Aztec Reports. "The investors are very interested in this piece of land to make a Manhattan-style city and want only upper-class people to live here," he said.
At various points throughout construction, and also in recent weeks, Xoco residents have taken to the streets to protest what they see as various injustices against the local population committed by real estate developers and the government.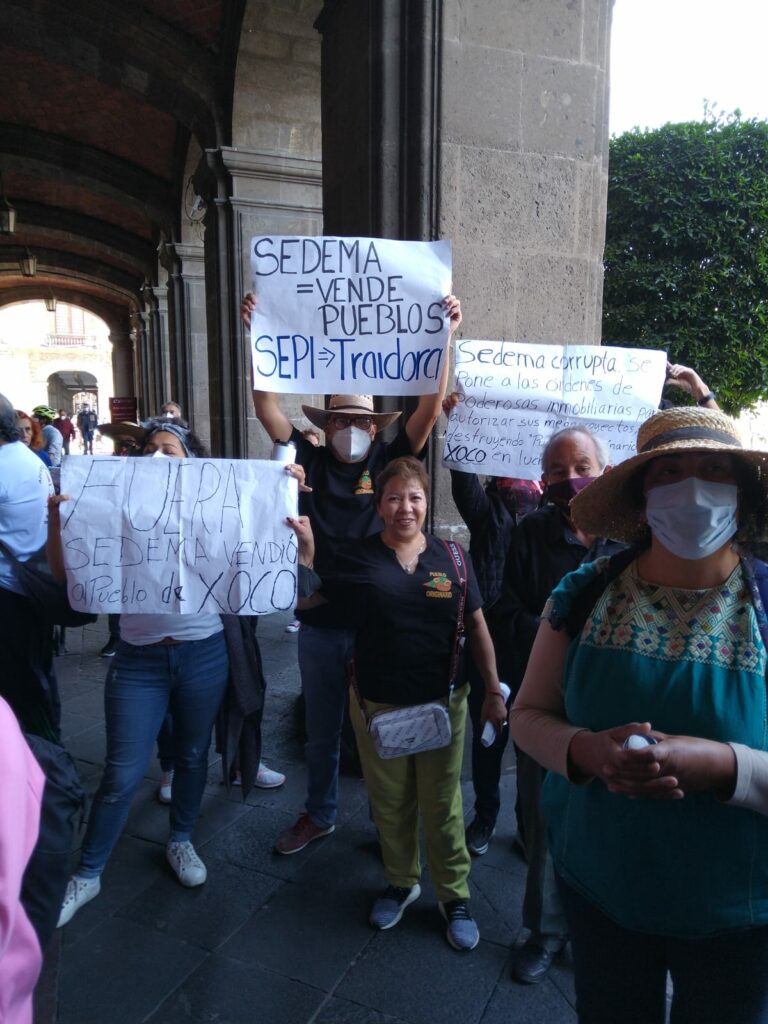 In February, protesters gathered in outrage after Torre Mitikah privatized Real de Mayorazgo, a main street that connected the community to a subway station and the municipality's chapel.
Hostilities intensified after construction workers cut over 50 trees along the main street, prompting a USD $2 million fine from Mexico City, which, according to the residents of Xoco, still remains unpaid. Aztec Reports was not able to verify this claim.
Feeling that their community with pre-colonial roots is being encroached upon, the Xoco Assembly filed a lawsuit against Torre Mitikah, arguing that their rights as an indigenous group were being violated and that the real estate project was enacted against the community's interest.
After a Mexico City court judge repealed the lawsuit, citing the community's claims were insufficient, Xoco's legal team has since rescheduled a hearing for May 17.
The massive expansion and privatization of the territory for the Torre Mitikah project was made possible thanks to a Mexico City law that large real estate developers can leverage to expand their investments.
According to the law, the intended use and spatial delimitation of any piece of land (like Xoco's main street) can be changed at the request of the government or private party in order to carry out an urban development project.
Within this legal framework, the government was able to concede the main street of Xoco to the development firm to expand its already colossal construction project.
While the legal battle between the community and developers ensues, organizers on the streets say they're sometimes met with violence and intimidation for pushing back against the development project.
According to demonstrators, on February 2, hundreds of men dressed as construction workers were hired to guard the construction site through violent means against the peaceful demonstrators. 
Mr. Rosales himself has said he's been threatened multiple times and, on one occasion, jailed for demonstrating in front of the construction site. After three days of protests, authorities allegedly apprehended him and accused him of corruption. "They said I was asking the developers for $3,500 pesos [USD $177]. How is that even logical?" asked Mr. Rosales.
Other instances of violence have been reported nearby the construction site. Local resident Francisco Gutierrez was allegedly assaulted by Torre Mitikah workers while riding his bike near Real de Mayorazgo. According to Mr. Gutierrez, two construction workers beat him up and threatened to kill him.
"I have been living here all my life. I don't want that tomorrow because I can't pay for the land, because I can't pay the high taxes that are coming. Tomorrow we will have to go to another state, where I feel displaced, where I can no longer be in my town. That's what keeps me fighting, the anger that they are pushing us away," said Mr. Gutierrez in a video after the attack.
Xoco's struggle with modern development is a microcosm of what communities are feeling across Mexico.
Significant investment, which leads to the reappraisal of properties, has raised the costs of property and property taxes throughout the city. According to the Xoco Assembly's own estimates, property prices in their community have risen 1300% in the past 10 years.
The rise of housing prices is not limited to Mexico City, the housing market across Mexico has experienced a surge in prices which, when compared to Mexican wages, depicts a larger scale problem.
The strain on lower and middle income people like Mr. Rosales as property prices rise and wages stagnate have forced them to look elsewhere for affordable accomodations. According to Mr. Rosales, this phenomenon is starting to happen in Xoco.
"We don't know when they leave, or where they go. We might hear rumors of people leaving but by the time we find out, it is too late. Once they leave, they disappear," Mr. Rosales said of his neighbors that have left the community.