To many around the globe, the first of November marks one of Mexico's most famous celebrations. When the dead are revived from memory, and skeletons take to the streets to celebrate the life and legacy of the country's dearly departed loved ones. It is etched in tradition, colour, culture and one of the most sought-after times to be in Mexico.
Día de los Muertos, or in the English speaking world Day of the Dead, is an annual celebration that takes over a number of days at the start of November. Geared at celebrating both life and death, the celebrations are immersed in a number of cultural traditions that capture the very essence of Mexican celebration. What's more the raucous noise of the celebrations beckon to wake the spirits and welcome them to celebrate alongside the living.
Indebted to traditions of cleaning graves, holding vigils of remembrance and creating extravagant altars, the celebrations have come particularly to a head recently in Mexico City where the large parade took place last weekend.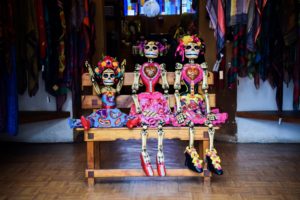 It seemed impossible to capture in words the essence of this ghoulishly vast parade, many leading newspapers choosing to simply depict the parade in pictures. However it is only the third celebration to take place in Mexico City, and a tradition that was, in fact, brought to light partially after the 2015 James Bond opening credits for Spectre depicted the event some years ago, before blowing up a building in true 007 style.
This year, Mexico City's celebrations highlighted a further pressing issue that currently ruminates around the country, and the parade was dedicated to the dead migrants that have died along their way through Mexico.
Though the Zocalo celebrations in Mexico City is what many have become accustomed to seeing, the tradition harks back sometime earlier and plays a larger precedence in other states around the country.
Formed through a combination of Catholic practices (All Souls Day) and Aztec beliefs, the mix of indigenous and Christian traits marks this day as one of spiritual remembrance. As for the Aztec influence, it means that this is a celebration steeped in hundreds of years of tradition which celebrates the different plains in which Aztec souls could be found.  The celebrations pay homage to the dead in a colourful and exciting way, marking the process of leaving the human world as a natural part of being human.
In fact, spreading over November 1 and 2, the first day is in fact considered Dia de los Inocentes and homage is paid to children that have died. The second day is that geared towards adults and their graves are adorned with orange marigold flowers.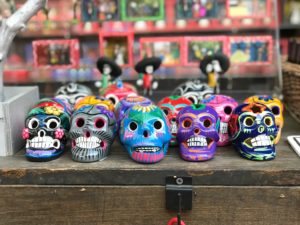 Unlike Mexico City's celebrations, bourne out of a very recent cultural demand, steeped in further tradition are more regional areas and states such as Oaxaca. In the southern state capital of Oaxaca City, for instance, markets are piled high with orange marigolds and pan de muertos (a sweet bread not actually made of anything dead) and sugar skulls, whilst many paint their faces at skeletons. Throughout the night, graves are lit with candles and cemeteries are alive with sounds, celebration and families remembering their dead.
Mexico's Dia de los Muertos is not the only celebration to be held across Latin America. It is a marked day across a number of Hispanic countries although the vast celebrations are namely associated with Mexico. In Bolivia, for instance, next week death will be celebrated in a more interesting fashion when Fiesta de las Ñanitas on November 9 will see Bolivian locals parade the actual skulls of their loved ones dressed up in costumes and decorations.