Mexico City, Mexico — Canada, the United States and Mexico held a series of meetings this week in Mexico City to discuss regional security, arms trafficking, migration, as well as the fentanyl crisis playing out across North America.
As was agreed upon in January at the North American Leaders' Summit, the countries established a trilateral committee of high-ranking officials to discuss the issues throughout the week.
On July 24, Mexican President Andrés Manuel López Obrador and his staff welcomed U.S. National Security Advisor Elizabeth Sherwood-Randall to the National Palace in Mexico City to discuss joint operations between the two countries related to security and immigration.
"We discussed the immigration issue with a focus on respect for human rights and cooperation for the development of peoples, as well as the fight against fentanyl and arms trafficking. The policy of good neighborliness is progressing smoothly," wrote López Obrador on Twitter.
On July 27, Mexico's Secretary for Security and Citizen Protection Rosa Icela Rodríguez hosted a talk focused on the synthetic drugs epidemic in North America which was attended by Sherwood-Randall in person as well as Canada's National Security and Intelligence Advisor, Jody Thomas, via a virtual call.
Through a press release, the committee outlined their strategy to counter the growing problem of drugs such as fentanyl, which focuses on going after the traffickers and criminal networks that produce and distribute the synthetic drug, as well as the suppliers of precursor chemicals used to manufacture it.
China is the "predominant source of precursor chemicals for Mexican criminal groups," according to Brookings scholar Vanda Felbab-Brown. In June, the U.S. Justice Department announced charges against four Chinese chemical companies for their involvement in supplying precursors.
During President López Obrador's daily press conference on July 26, Rodríguez, Mexico's security chief, disclosed that Mexican authorities had dismantled over 1,700 drug laboratories worth up to USD $95 billion in losses for organized crime.
"During the administration of Andrés Manuel López Obrador, 1,788 clandestine processing centers where synthetic drugs were manufactured have been dismantled. The economic impact on organized crime due to this cause is more than 1.6 billion pesos [USD $95 billion]," said Rodríguez.
The delegations from the three countries also committed to creating an expert working group to identify challenges related to each country's respective legislative and regulatory frameworks associated with precursor chemicals and related equipment.
Fentanyl concerns in Mexico
While President López Obrador has asserted that there isn't fentanyl consumption in the country, health authorities have reported an increase in the use of fentanyl products within Mexico's own territory.
The Mexican Observatory of Mental Health and Drug Consumption 2022 report showed an 80% increase in fentanyl use that year, documenting a persisting increase since 2018, when authorities reported less than 10 cases of fentanyl usage, compared to 2022 when the figure rose to 333 cases.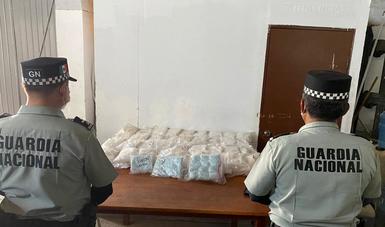 While the number of Mexican cases does not compare to the alarming trend of fentanyl use in the United State — which has reported over 100,000 overdose deaths, nearly 70% associated with synthetic opioids like fentanyl — the increased distribution of fentanyl has drawn concern in some Mexican states, particularly those bordering the U.S.
On July 27, authorities in Baja California, on Mexico's northwestern border with the U.S., reported an increase in overdose deaths in that state. Local authorities said that last year, 60 out of the 200 drug overdose cases were fentanyl-related.
"Here we do not deny that it is a potential problem, addictions are a public health problem in Baja California, and we are concerned about the access and availability of fentanyl on the streets," said Adrian Medina Amarillas, head of the state's health ministry.