Miferia, an online Mexican wholesale marketplace, has raised a $7 million seed round to continue developing its curated website connecting independent retailers in Mexico with brands in categories such as cosmetics, food and beverage, and home décor.
The seed funding is the first institutional round the company has taken. The investment was co-led by Bain Capital Ventures and Tiger Global, and included participation from Canary, Latitud Ventures, and Asymmetric Capital Partners.
Despite the rapid growth in e-commerce, over 90% of retail in Mexico still takes place in its 2 million physical stores. This market remains completely unserved by digital tools, where less than 1% of B2B transactions have moved online.
Brands in Mexico also face a variety of hurdles: offline brands forgo significant margins to traditional distributors and must deal with the burden of cash collections, while online direct-to-consumer brands lack access to the lion's share of industry sales that take place in physical stores.
That's where Miferia comes in. The platform lets Mexican shopkeepers digitally consolidate their offline relationships and helps them grow by expanding their product selection and providing access to improved credit terms. Miferia already features thousands of products from over 500 brands, with over 30 new brands being onboarded weekly.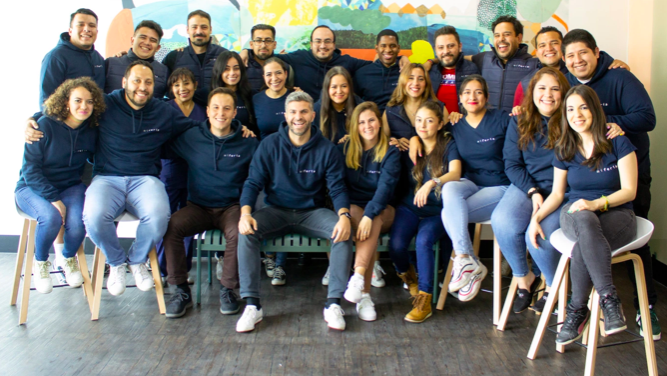 "The e-commerce boom in Latin America has led to a proliferation of digital brands and improved last-mile logistics for consumers," said Tariq Musa, founder, and CEO of Miferia. "But these developments have not yet benefited the region's independent retailers. Miferia's mission is to empower these small and medium-sized businesses across Mexico and ultimately Spanish-speaking Latin America."
Historically, entrepreneurs have given more attention to B2C, but now they are realizing how B2B markets are many times bigger than B2C markets (annual global B2B spend is more than $100 trillion), and they're much more offline. If consumers can buy anything online, why do businesses still have to purchase the vast majority (if not all) of their goods and services using antiquated, inefficient non-digital channels?
Merritt Hummer, a partner at Bain Capital Ventures, says, "The movement of wholesale trade from offline to online venues is a global phenomenon, and we believe that online B2B marketplaces will eventually replace physical tradeshows and traditional distribution channels across most product categories and geographies."
Since the start of the pandemic, Latin American B2B marketplaces are booming. A new generation of founders is using new technologies and business models to bring B2B spend online. One which is Morado, a Colombian marketplace for the beauty industry that
offers same-day delivery, credit access, and the biggest product portfolio for beauty salons.
Another Latin American startup disrupting B2B wholesale supply chains is Frubana, the food supply chain market that aims to become the one-stop shop for all restaurants—connecting the countryside and different suppliers with the city through a digital platform.
While many up-and-coming startups focus on connecting vendors with suppliers, others are building solutions to facilitate processes for b2b marketplaces. An example is Prometeo, an open banking API that allows marketplaces to move money or get financial data faster. The company has over 108 API connections and can access banking data from 36 financial institutions in 10 countries. Prometeo is great for credit checks, centralized bill payments, e-wallets, and payment tracking, which can be used by marketplaces to add more and faster products to their portfolio.
While Miferia is still in its early stages, the startup plans to use this capital to accelerate growth and continue offering Mexican brands an improved channel to connect with independent retailers across the country.
Disclosure: This article mentions a client of an Espacio portfolio company.