It was just last month that over 30 prominent social leaders came together in the vibrant neighbourhood of Poblado, Medellin. Known as the Master Peace international meet up, the pioneers contributed to a week-long boot camp of peace talks and workshops geared at building community relationships and improving social standards across the globe.
It was the first time that the gathering was to be held in South America, with Medellin carefully hand-picked as the final destination due to the transformation the city has undergone in recent history. It was also an exciting week full of celebration and sharing ideas between countless countries, among which you could find Uganda, Romania, Egypt and Germany just to name a few.
Interactive workshops, networking and creative sessions also formed part of the week-long activities and a true sense of positive change lingered in the air as communities from around the globe shared their stories of progress and peace development through art and creative expression.
Among the group of prominent social leaders were Sofie De Wolf and David Rincon who, with a small team, has led the way for social development and change from the heart of Mexico City.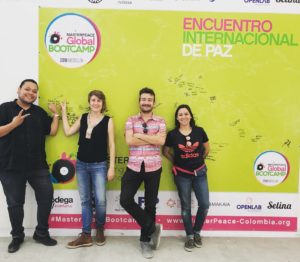 In a city already brimming with vibrant traditions, food and colour, Masterpeace Mexico is focused on channelling art in order to both rejuvenate the city and inspire a new generation of Mexican creatives. Amidst a backdrop of increasing tensions across Mexico, heightened crime rates and ongoing outrage over the disappearance of 43 students in Guerrero over four years ago, the small organisation aims to rally support and, more importantly, social development.
From a small, centrally-located office the team of four experts, as well as a plethora of specialists in art, history and peacebuilding are rallying to create community projects and competitions around the city. They also participate in 'walls without borders' which uses the creation of vast murals across the world to encourage integration and community projects.   
One of their up and coming projects is called Barrios de Paz (Peace Neighbourhoods) which, inspired by a similar project in Barranquilla, Colombia, is encouraging young people to channel artistic talents into improving a local area. It is in these places, often associated with levels of violence, that with the backing of MakeSense, Citibanamex and Veolia, the initiative focuses group aims to transform a culture of criminality into one of creativity and expression.
Another angle which the organisation is hoping to develop comes in the form of an app called Principia. The basis of the technology is to allow users to connect with artists around the city, and work to develop the creation of further murals in public as well as private spaces. It also acts as a platform to display the work of Mexican muralists and offers courses and workshops for local residents.
As well as collaborations with the Dutch Embassy, the group has already connected with countless international funds as well as leading companies who are backing the development of the initiative. Although they are currently focused in Mexico City, the organisation is rallying support across the country and contributing to the creative development of a colourful country. Not only do they boast a community of up-and-coming artists who are using their work to inspire Mexico City's local communities, but the group also encourages discussion and an open space for locals to speak about their encounters through creative windows.