MEXICO CITY – It was at Boulevard Puerto Aéreo metro station that Eunice Alonso was approached by a man in his twenties before he pulled a knife – or gun – on her. As she recounts the incident on her Facebook, paralyzed by fear, she still cannot be certain what he held to her ribs.
The unidentified man threatened the girl and demanded she go with him into a white van—the most recent of a long line of attempted kidnappings in Mexico City's metro system. Luckily for Alonso, who was crying by this point, a woman had noticed something going on and raised the alarm by shouting ''fire'' until a police officer arrived.
'What would [have] happened if that lady had not helped me?' she asks on social media.
At the time of the attack, Alonso was on her way to school and even reminding her readers that she was not dressed in a "provocative" way. She was also waiting in a crowded station in the women's only section of the metro.
Mexico City is just one of two Latin American cities, the other of which is Rio de Janeiro in Brazil, where a number of carriages on metro trains and buses are specifically allocated for women and children under 12 years old. Implemented in 2008, the majority of stations have a barricaded area which is monitored by a security guard to ensure that only women enter the area.
Separating women from harassment
Usually identified by pink signage or carriages, there are a select amount of countries around the globe that enforce women-only carriages. Alongside Latin America, they can be found in Japan, Egypt, India, Iran and some trains in Thailand. According to The Telegraph, Indonesia similarly had women only-carriages but decided to discontinue them because the demand for the metro system was too high.
The majority of national systems cite protections against sexual harassment as the main reason for introducing optional, segregated cars. According to The Telegraph report, in Japan, men also welcomed the carriages as it meant they could not be falsely accused of harassment.
According to a survey undertaken last year by the FIA Foundation which specifies on global transport improvements in cities where gender segregation does not exist on transport, 89% of men and women in Quito, Ecuador and Buenos Aires, Argentina claim to have either experienced or witnessed sexual harassment on public transport. However, despite what might seem as heightened protections against women using public transport, near the end of last year, three out of four women using Mexico City's public metro still felt at risk of sexual harassment or abuse.
Mexico City boasts Latin America's largest metro system, with twelve lines and 195 stations catering to the millions of people that take to the tube every day, a ticket costing just five Mexican pesos (25 cents).
In the run-up to the recent International Women's Day, headlines in Mexico were dominated by a wave of attempted kidnappings in Mexico City's metro. It has led to large-scale marches throughout the city as women demand more protections against predators within the city.
What the headlines suggest is that harassment continues despite the women-only carriages in a county that is still somewhat fueled by machismo. What cannot be accounted for are the cases that are never reported and, following a recent revelation that 64% of the city's metro video surveillance doesn't work, even policing proves ineffective.
Safer commuting
So, if Mexico City's metro segregation fails to fully solve the problem then why are the female carriages often busier than other carriages?
''It's a thing, women really protect that space,'' Marcela Torres, CEO of a startup named Hola Code in Mexico City pointed out. She explains that she doesn't know a single friend of hers that wouldn't opt for the women-only carriages during transit.
''Only women metro cars could be safer in a way… mostly, I would take them in rush hour or when it was too late, so I didn't feel too vulnerable when smashing between people,'' Artist Maria Fernanda Garcia Arteaga told Latin America Reports.
Of the women asked about their travel preferences for this article, all preferred to use the female carriages. When queried if they knew of anyone that deliberately chose not to use the female carriages, no-one came to mind.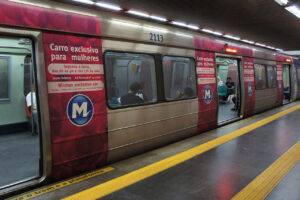 Explaining that it boiled down to a ''matter of logistics,'' CEO Torres suggested that the only reason a woman would use the mixed carriages is ''only if the train arrives and you haven't reached the front.'' If travelling with a male friend, women would also then take the mixed carriages.
The women-only carriages thus remain at the forefront of preventative measures against sexual harassment in the city's metro. Yet, if it is habit for women to always use the female-only carriages, and protect that space – ''if any man gets into the women's carriage, women just go bonkers and start screaming at them,'' – then does that, in fact, normalise the underlying presence of harassment in Latin American culture?
A short term solution
''I think it has been a good alternative because of the magnitude of the problem with the harassment in the metro but I do not think it is a solution to the great problem of violence against women that exists in Mexico City and in the country,''said Pablo Guadarrama, one of the millions of men that take the metro regularly.
''Women still do not feel safe in the subway or in the public spaces of the city in general, and this kind of thing shows that as a solution to the problem of gender violence it is erroneous since it only attacks one of the thousands of symptoms of this big problem.''
It is an awareness shared arguably by the majority of Mexico City's men, and also women, that separating women from aggressive men is a short term solution, however, it does not address or attempt to solve some men's perception towards women.
''I would preferably go to the women's car although I know in a way that that is not a synonym of space for respect or safety,'' Artist Garcia Arteaga reinforces. Torres points to a similar note explaining that it's ''not a good long-term sustainable solution to harassment.''
It is, however, a short-term solution that has been in place for over ten years now.
In 2017, Mexico City played host to the UN's global forum on safe cities for women and girls, where specialists from around the globe gathered in the Mexican capital to share findings on ways to best enforce legislation against gender violence. However, according to a recent study by Mexican publication Animal Politico, just 43% of Mexicans believe progress has been made in enforcing gender equality within the country. The crisis in Mexico City and across the country is only enhanced by increasing reports of femicide.
''Without respect, you can not start taking actions,'' Daniela Luna, is a resident of Mexico City and has recently taken part in a number of marches against gender violence.
Gender-only carriages in Latin America serve as temporary protection, but it's certainly not a means to an end. What's more, it is enforced in just two of the 24 metro systems that connect cities across Latin America.
Authorities from CDMX's Sistema de Transporte Colectivo and Rio de Janeiro Metrorio failed to respond to a request for comment.